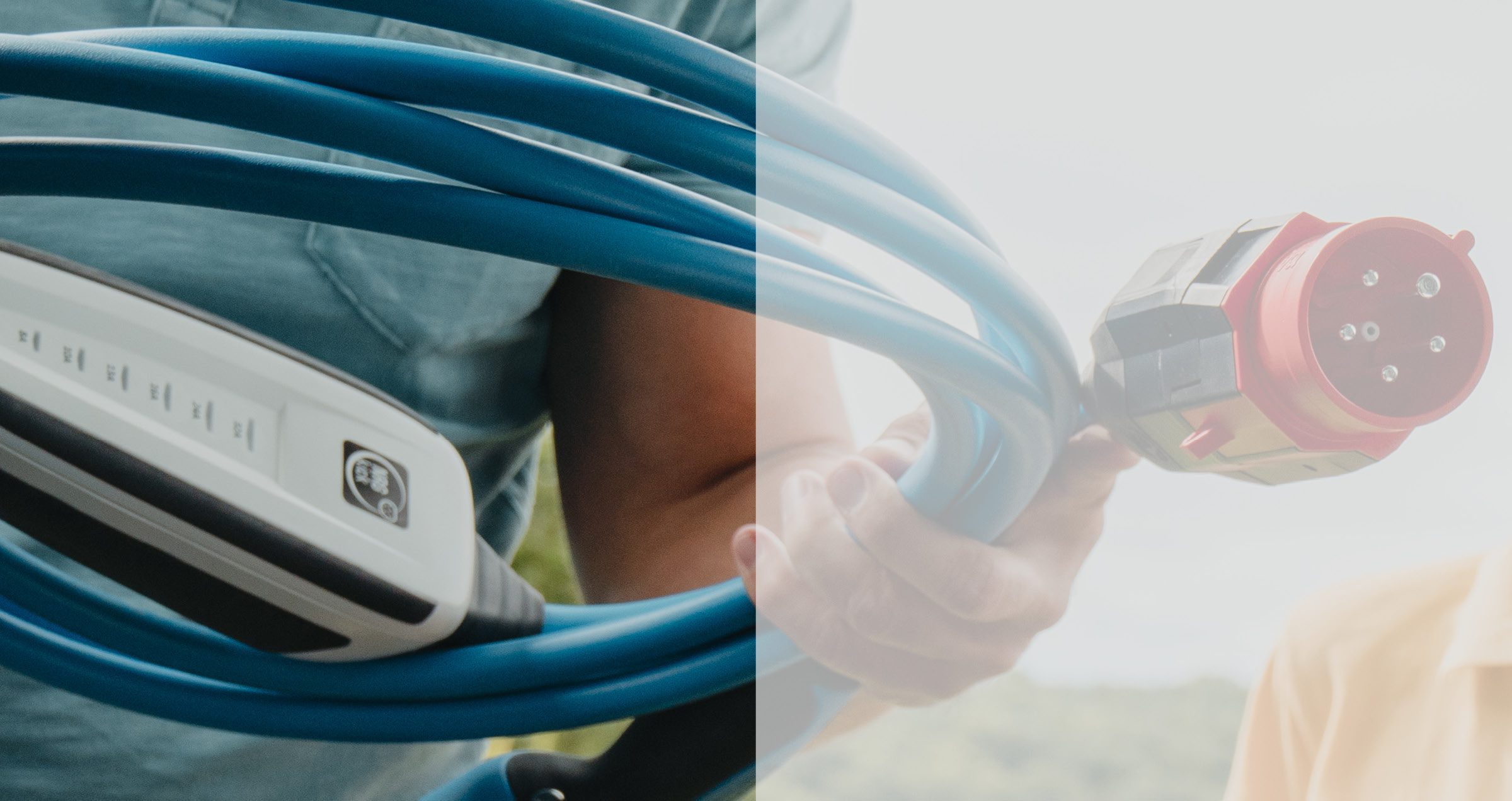 The one...
Mobile charging unit

The one...
Mobile charging unit
… FOR EVERYTHING
NRGkick is everything you'll ever need to charge your electric car.
But best, you convince yourself!

VDE & ÖVE CERTIFIED
NRGkick was the first mobile charging unit to be validated and certified by VDE and ÖVE! VDE is probably the most respected body for this at all – the seal of approval is synonymous with safety and quality. This therefore expresses absolute conformity with the standard and is evidence of the superior product and manufacturing quality of the NRGkick. For this reason, NRGkick also carries the VDE and ÖVE labels on the product. In addition, NRGkick also carries the GS mark for "Tested Safety", certifying that it meets the requirements of the Product Safety Act.
NRGkick Functions and Features
Supervised production
At DiniTech not only the product but also the production facility is certified by VDE and ÖVE! This means that the product quality and the manufacturing process have been certified by VDE and ÖVE and that compliance with the criteria is also checked by VDE and ÖVE during production! Checked is e.g.: Are the same high quality parts used for production with which the product was also certified? Does the production process comply with the specifications? All in all, this guarantees continuous, consistent quality in all production steps in order to be able to manufacture consistently high-quality products for our customers.
Safe
Safety is divided into three areas at NRGkick:

Safety for the power grid

Safety for the charging process


Thanks to numerous protective measures such as a self-check before each charge start, a protective conductor check or even the innovative Hot Unplug Protection, all specified safety standards are not only met but even exceeded by far.
Everything for it, so that nothing stands in the way of a carefree charging process.
Reliable
NRGkick has proven itself many times over since its market launch in 2015. Many thousands of pieces of the charging unit were delivered to over 35 countries around the world. True to the motto "charge. fast. anywhere." NRGkick delivers energy from Iceland to New Zealand.
In the meantime, large companies that equip their corporate fleets as well as well-known OEMs that rely on NRGkick in series production also trust in this high quality. In addition to Austrian companies such as ASFINAG or the Lower Austrian provincial government, international automobile manufacturers such as Porsche Holding Salzburg, Volvo Trucks and Daimler Trucks also rely on NRGkick.
And there is a reason for this: the highest quality is the minimum requirement in the production of the NRGkick. NRGkick is safe to drive over, absolutely robust and IP67 + IP69K waterproof. This is confirmed by independent certificates from TÜV Austria and VDE.
COMPACT
NRGkick was designed to pack the maximum power into the minimum package. The dimensions have been reduced to an absolute minimum – so the wallbox has migrated into the charging cable an the charging station is always on board! Thanks to its compact dimensions, NRGkick fits in any trunk and frunk, making it the ideal companion on the road!
Thanks to the particularly light and small plug system, absolutely no additional cables are required – regardless of whether charging is to take place at a three-phase socket, a domestic plug socket or a public charging station.
INNOVATIVE
To be able to charge everywhere, quickly is our ultimate promise. But with additional smart features available, NRGkick becomes much more than just a mobile charging unit.
Integrated Bluetooth and WiFi interfaces enable control via smartphone, integration into the home network und connection to photovoltaic systems. Settings for charging currents and energy limits, automatic charging reports, timed and solar-led charging are just a small sample of the smart side of the NRGkick.

Absolutely compliant with standards
Based on many years of experience with mobile charging units, the highest quality safety measures have been developed. Norms and standards are not only met at NRGkick, but exceeded by far. Compliance with standards and policies was carried out at external accredited institutes.

Highest Quality
NRGkick was the first mobile charging unit ever to be validated and certified by VDE and ÖVE. However, not only NRGkick itself, but also the production meets the highest standards. Therefore, the manufacturing and production facility is also certified by VDE and ÖVE and continuously monitored for production.

SERVICE
Have questions about your NRGkick or a smart feature? Need advice on what features would work best for you and your electric car? Dou you have suggestions for further developments that you would like to give us?
We always have an opean ear for you! No matter whether by e-mail or telephone – our trained staff is always available for you! Together we face all challenges and find optimal solutions!